Trip to Lake Nacimiento (White Bass Fishing)

Submitted by justbkuzz on Thu, 07/07/2011 - 13:19
Published in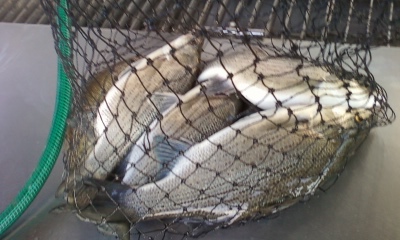 Normally 90% of the time we fish in Kern County, but recently we took a trip to Lake Nacimiento to fish for the White Bass.
We were trolling for Bass, that's right, trolling!  I heard these White Bass hit well while trolling but never imagined how well.  As you can see in the photo my net was filled with White Bass. 
I thought I was doing pretty well until I got back to the fish cleaning station and had seen how many fish others were catching.  Even though I brought in nine fish, that was not even an average compared to what others pulled out of that lake. There is no limits on these White Bass. 
Note: They have a strict rule, you must cut the gills right after you bring the White Bass out of the water.  They do not want this fish getting into any other bodies of water and they have heavy fines if they catch you.
We trolled slow next to shorelines with small to medium size crank baits dropping no more than six feet deep.  Medium size blue with yellow and white got the most hits.
Others where also doing good fly fishing and fishing jigs in narrows.
Oh, by the way, these fish taste great, surprisingly.
Don